Taylor Williams, Superintendent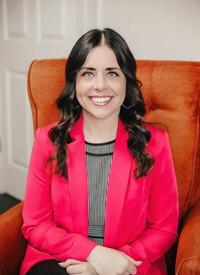 I would like to welcome you to Slidell ISD and the great Greyhound community! I am so proud to be a part of this amazing district and the great accomplishments of our faculty and staff. We pride ourselves in the individualized educational experience while also offering many opportunities for our students in the areas of academics, athletics, fine arts, and agricultural programs. Slidell ISD is a PK-12 district with highly-qualified staff, high attendance rates, low teacher turnover, and an experienced teaching staff.

Our elementary students are exposed to art and music while also having four opportunities throughout the day for brain breaks and recess in addition to our physical education program. We believe in holistic health and focus on the overall needs of all students. Slidell ISD is very competitive in UIL Academics from the elementary level all the way through high school. We often have over 30% of our high school students advancing in various UIL events. We often rank in the top 5 in the state for overall UIL State Academics and were the 2021 State UIL Academic Champions. We offer WIN time throughout the district to accommodate various needs from tutoring and support to gifted and talented programs and UIL practice.
Our secondary campus offers various elective courses and all five endorsements under the TEA graduation plans. We have several programs of study with certification offerings. Many of our high school students graduate core complete at any Texas university with over 30 dual credit courses through Weatherford College. In the near future, students will have the opportunity to graduate with an Associate's degree and a high school diploma at the same time. Our OAP has historically advanced and we also offer theatrical design opportunities for students. In athletics, students can choose to participate in cross country, basketball, track, tennis, and golf. Over the last four years, our athletes have advanced to the regional level in all areas. We won the 2019 State Basketball Championship, were co-champions in 2020, and were the 2021 State Basketball Championship Runner-Up. We also had the 2019 and 2021 State Tennis Champion in girl's singles and the 2022 State Tennis Champion Runner-Up.

We are very proud of our continued success as we navigate the enormous growth the last few years. We are currently one of the fastest growing districts in the state when looking at percentage growth. We look forward to another great year of building partnerships with the community, parents, students, and staff to make our school a great place for children to learn and grow.

Go Greyhounds!
Taylor Williams
Slidell ISD Superintendent


About Me
A few facts about me... My entire career has been spent in Slidell ISD. I began as a substitute teacher in 2009 and quickly fell in love with this district and community. I began my teaching career in 2010 and have served as a teacher, student services director, testing and textbook coordinator, elementary principal, secondary principal, and now superintendent. I am blessed to spend my days in Greyhound Nation! I obtained both my bachelor's degree and master's degree from Texas Woman's University. I hold certificates for PK-12 principal and superintendent. I also have teaching certificates in 4-8 Generalist, ESL, Special Education and FCS. My husband and I are the proud parents of three children, Grady, Dixie and Lyle. We also have a Goldendoodle, Heidi, along with goats, chickens, and cows. We enjoy traveling as a family, spending time outdoors, antiquing and finding good bargains at local thrift stores.